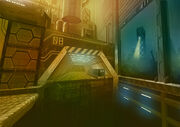 "An abomination controlled by a monster. This cadaver of metal is an affront to mankind. It shall fall before the power of science." - Flavor Text
The Isle of Dreams is one of Copen's stages in Azure Striker Gunvolt 2. This island contains an abandoned waste-processing factory that Eden is using to cobble together weaponry. Copen's objective is to shut this operation down.
Briefing
Edit
Nori: Eden agents have taken over an old waste-processing plant. They restarted the machinery and are now taking parts inside. I'm just guessing here based on what we know, but... I think they're using the parts plus old junk to make weapons.

Copen: They're making weapons from garbage? That seems stupid.

Nori: Yes, but combine it with a septima, and who knows?

Copen: Doesn't matter in the end. I'll crush them regardless.

Stage Composition
Edit
Be careful of the wrecked Sumeragi robots lying around. Some of them may spring to life, controlled by Asroc's Septima.
The conveyor belts carry around really sharp piles of scrap. Touching them hurts, but they're too low to shoot normally.
There are a variety of grinders in the factory that act as spike pits. Needless to say, falling into them would be bad.
Just because you take down Asroc the first time doesn't mean he's done. You'll have to face off against his "ultimate creation", the Gran Torta.
Challenges
Edit
Iron Forest - Clear within 11 minutes. Rewards: 5 Garnets
Witchcraft - Clear within 7 minutes. Rewards: 1 Ultradense Magnet
Glazed Puppet - Clear with Rank B or higher. Rewards: 3 Quartzites
Bruleed Marionette - Clear with Rank A or higher. Rewards: 3 Electrums
Caramelized Cemetery - Clear with Rank S or higher. Rewards: 1 Shock Response Plate
Workplace Inspector - Defeat 60+ enemies in one run. Rewards: 3 Graym Cultures
Cut the Strings - Defeat Asroc while Galette Krone is shut down. Rewards: 5 Polymer Gm238's
Abandoned Factory - Obtain all 5 medals and clear the stage. Rewards: 10 Garnets
Unwound - Clear 3 times. Rewards: 2 Ultradense Magnets