Welcome to the Azure Striker Gunvolt Wiki
You can find everything about the Azure Striker games here and join the community in our Chat!
Please consider reading our Rules to understand our standards and visit the Samples to understand how to create new pages (not necessary if you're already experienced with Wikia Editing).
The community is always growing, and with your help it can turn into the ultimate knowledge website of the Azure Striker Franchise. Remember to always be nice, and feel free to edit! Please join our Discord!
Watch the Community Portal to see what pages in the Wiki requires Editing
---
Featured Article
"You can't stop it, Adept... Nothing can..."
—Asroc, Azure Striker Gunvolt 2
The
Michi Mk X18 "Plasma Legion"
(ミチX一八式"プラズマレギオン") is a 10th generation unmanned tank developed by the
Sumeragi Group
, later stolen by the
Adept
union 
Eden
 and a boss in
Azure Striker Gunvolt 2
. A famously powerful war machine, even during it's development period, it was hijacked by Eden and used as a tool in their misanthropic schemes.
For full article see here
---
News
12/05/2018:
Gunvolt Chronicles: Luminous Avenger iX
, a Copen side-story, is announced!
31/08/2017:
The Nintendo Switch version of the
Azure Striker Gunvolt: Striker Pack
releases!
20/06/2017:
Mighty Gunvolt Burst
releases on Nintendo 3DS!
15/06/2017:
Mighty Gunvolt Burst
releases on Nintendo Switch!
20/05/2017:
Inti Creates announces both the Switch version of
Azure Striker Gunvolt: Striker Pack
and
Mighty Gunvolt Burst
, a sequel to
Mighty Gunvolt
!
02/09/2017:
Azure Striker Gunvolt: The Anime
releases worldwide!
02/01/2017:
The official release date of
Azure Striker Gunvolt: The Anime
is revealed as 9th of February, 2017. Alongside the announcement is a new trailer, an official website for the OVA and the reveal of English voice actors.
---
Affiliations
• God Eater Wiki • MMKB •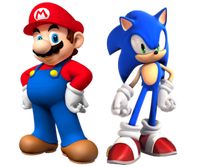 Platformer Games
Go to these sites for info or for help with your own wiki!
A Hat in Time • Azure Striker Gunvolt • Banjo-Kazooie • Bloodstained: Ritual of the Night • Broforce • Castlevania • Cave Story • Code: Hardcore • Conker • Contra • Crash Bandicoot • Croc • Cuphead • Donkey Kong • Drawn to Life • Epic Mickey • Ganbare Goemon • Geometry Dash • Jak and Daxter • Jazz Jackrabbit • Kirby • LittleBigPlanet • Mario • Mega Man • Metal Slug • Metroid • Oddworld • Ratchet & Clank • Rayman • Shantae (and WayForward games) • Shovel Knight • Sonic • Spyro the Dragon • Strider • Yooka-Laylee
Want your community included? See how!
See all of our Platformer gaming wikis!