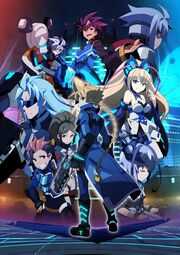 Azure Striker Gunvolt: The Anime, also known as Armed Blue Gunvolt OVA in Japan, is an original animation video created in a collaboration between Inti Creates, TOHOKUSHINSHA, and LandQ Studio's. It is an anime side-story loosely based on the opening stage of Azure Striker Gunvolt, and is intended to introduce story elements of the series that were not seen or elaborated upon in the game.[1] The OVA features the Japanese voice actors reprising their roles from the game, but also features English voice actors, a series first.
The OVA, originally scheduled for a winter 2016 release, released internationally on the Nintendo eshop on February 9, 2017. [2]
The OVA with Gunvolt on a mission attacking a Sumeragi Group base. The next day, the news reports that the suspect is the same one involved in the kidnap of virtual pop idol Lumen, and is also thought to be responsible for the blackout that dame night. The news then cuts to the leader of the Sumeragi Adept Defence Task Force, Nova Tsukuyomi, who issues a statement at a press conference claiming the incident proves that Adepts are too dangerous to be left unregulated. Watching at home, Joule turns off the T.V., and looks over at Gunvolt, internally monologuing that no matter what the world thinks, she knows the truth, and that she'll never forget what he did for her.
Staff and Cast
Edit
Gunvolt: Kaito Ishikawa / Josh Keller
Joule/Lumen: Megu Sakuragawa / Diana Garnet
Asimov: Masashi Yukita / Maxwell Powers
Moniqa: Moemi Otaka / Hannah Grace
Zeno: Haruki Ishiya / Stephen Wiley
Copen: Kosuke Masuo / Peter Von Gomm
Nova: Ayumu Murase / Chris Nelson
Merak: Yuuta Kasuya / Vinay Murthy
Romeo: Hideki Makino / Cyrus Sethna
Other: Wataru Takagi, Ousuke Yoshitatsu, Kaoru Akiyama
Director/Continuity/Producer: Yoshinori Odaka
Scenario: Shigeru Murakoshi
Character Design/Animation Supervisor: Masakazu Sunagawa
Action Director/Key Animator: Koudai Kawase
Props/Mecha Design: Ryuta Nakahara
Film Director: Polunt Sai
Backgroud Art Director: Keinichi Kurata
Color Design: Kanna Terawake
Animation Inspector: Mikie Matuyama
Backgroud Art: Baku Production
Music: Ippo Yamada, Ryo Kawakami
Film: LandQ Studio's
Production: INTI CREATES, TOHOKUSHINSHA, LandQ Studio's
This is the first piece of media in the entire Azure Striker Gunvolt series to feature an English dub.
References
Edit
↑ http://nintendoeverything.com/interview-inti-creates-on-azure-striker-gunvolt-scrapped-ideas-amiibo-interest-may-revisit-mighty-gunvolt/2/
See Also
Edit