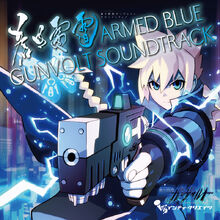 The Armed Blue Gunvolt Official Soundtrack is the OST of the game Azure Striker Gunvolt by Inti Creates. It is one of three soundtracks made, alongside Azure Phosphorescence, and the Armed Blue Gunvolt: Claw Soundtrack.
This CD contains the majority of music made and used for the game.
The (full) vocal tracks are not here, as they were given their own spot in Azure Phosphorescence.
It also contains the melody for the Sakurazaki car CM mentioned in the game's "Talk Room".
This track is one of two available outside of Japan, alongside Azure Phosphorescence.
This soundtrack was localised and relesed via FanGamer's . It comes in a folded cardboard case instead of a jewel case. 
References
Edit