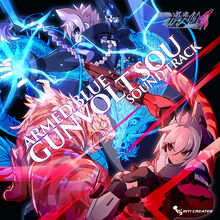 The Armed Blue Gunvolt Official Soundtrack is the OST of the game Azure Striker Gunvolt by Inti Creates.
It is one of eight soundtracks made, alongside "Armed Blue Gunvolt Soundtrack" "Azure Phosphorescence", "Justice Rage", "Admiration to Peace", "Lazy Kingdom", "Into the Blue" and "Electro Rotation".
This CD contains the majority of music made and used for the game.
The (full) vocal tracks are not here, as they were given their own spot in "Into the Blue" (for Joule) and "Electro Rotation" (for Lola).
References
Edit
Ad blocker interference detected!
Wikia is a free-to-use site that makes money from advertising. We have a modified experience for viewers using ad blockers

Wikia is not accessible if you've made further modifications. Remove the custom ad blocker rule(s) and the page will load as expected.